[vc_row][vc_column][vc_column_text]The RUIS McGill Centre of Excellence on Longevity brings together health professionals, social services, researchers and public institutions in a transversal organization and pursues its missions thanks to a multidisciplinary team dedicated to supporting the human longevity.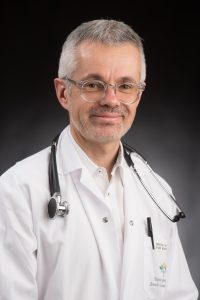 The Director
Olivier Beauchet, MD, PhD
Dr. Olivier Beauchet is certified in neurology, internal medicine, and geriatrics, and assumed the role of Director at the Centre of Excellence on Longevity in June 2016. He is fifty years old and serves as a full-time professor at McGill University and as a consultant geriatrician at the Geriatrics Division at the Jewish General Hospital and holds the Dr. Joseph Kaufmann Chair in Geriatric Medicine. Dr. Olivier Beauchet holds a Master's degree in pharmacology, a Master's in neuropsychology and a doctorate of neurosciences. Over a 25-year career of clinical research and practice, Dr. Beauchet has focused on exploring age-related cognitive-motor decline, the neurological effects of vitamin D and treatment pathways for elderly patients. Today, he is one of the world's leading specialists in vitamin D deficiency, as well as gait and balance-related issues and their relationship with cognitive decline. He is the founder and leader of two consortia, one of which operates internationally, the other throughout Canada, bringing together international teams of researchers and clinicians who specialize in human longevity.
Experts at the Centre of Excellence on Longevity
Because of the way it attracts and brings together high-level expertise, complementary professional backgrounds, and a variety of different environments, the Centre of Excellence on Longevity is well placed to address all aspects of human longevity.
As such, the Centre of Excellence on Longevity involves a community of experts at provincial, national, and international levels, whether on a one-off or permanent basis, with each of these experts providing a complementary perspective and exceptional capabilities in the various specialisms that are involved in the field of human longevity.
These experts – including university-based research scientists, lecturers, entrepreneurs, sociologists, nurse, occupational therapists, designers, professional caregivers, communications or marketing consultants, territorial development specialists, geriatric medicine specialists, doctors, home automation specialists, training providers, representatives of elderly people, and politics – come from the a variety of backgrounds such as the university sector, public services, the business world, and the voluntary sector, as well as the wider community.[/vc_column_text][/vc_column][/vc_row][vc_row][vc_column width="1/2″][vc_column_text]
Dr. Jonathan Afilalo, MD, MSc, FACC, FRCPC
Researcher, Lady Davis Medical Research Institute
Director of the Cardiology and Epidemiology Divisions
Assistant Professor at the Department of Medicine, McGill University
Associate Member of the Department of Epidemiology and Biostatistics, McGill University
Dr. Marc Afilalo, MD, MCFP (EM), CSPQ, FACEP, FRCP
President of the Executive Committee of Emergency Medicine, McGill University
Professor at the Faculty of Medicine, McGill University
Director of Emergency Medicine at the Jewish General Hospital
Dr. Ben Albright, MD, CM, CCFP (COE)
Director of the Elderly Patients Treatment Program and Assistant Professor at the Department of Family Medicine, McGill University
Isabelle Aumont
Head of the Information Operations and Performance Evaluation Service at West-Central Montreal CIUSSS
Dr. John Barden, PhD
Associate Professor, Faculty of Kinesiology and Health Studies, Neuromechanical Research Center, University of Regina, SK
Dr. Olivier Beauchet, MD, PhD
Full Professor of Geriatric Medicine, McGill University
Holder of the Dr. Joseph Kaufmann Chair in Geriatric Medicine, Faculty of Medicine, McGill University
Senior Researcher, Lady Davis Medical Research Institute
Consultant in Geriatric Medicine, Department of Medicine, Geriatrics Division, Sir Mortimer B. Davis Jewish General Hospital
President of the Scientific Committee at the Congress of the Canadian Geriatrics Society (Montreal, 2018)
Joint president of the Quebec Committee of the OPUS-AP Program
Nouha Ben Gaied, PhD
Director of Research and Development, Quebec Federation of Alzheimer Societies, Montreal
Dr. Howard Bergman MD, FCFP, FRCPC
Director of the Department of Family Medicine
Professor of family medicine, geriatric medicine, and oncology at McGill University
Dr. Louis Bherer, PhD
Neuropsychologist and full Professor at the Department of Medicine, Université de Montréal;
Research Centre of the Montreal Cardiology Institute;
Preventive Medicine and Physical Activity Centre (EPIC);
Research Centre of the Université de Montréal Geriatrics Institute
Marguerite Blais, PhD
Specialist counselor for Elderly People and their Caregivers, Octane Strategies Communications
Former provincial deputy representing Saint-Henri Sainte-Anne
Vice President of the Commission for Citizen Relations
Former Quebec Minister for Seniors (2007-2012)
Erica Botner, MSc RS
Program Manager, Cummings Centre
Conference Leader, Applied Human Sciences, Concordia University
Christine Bougie
Research nurse and clinical IT analyst, Jewish General Hospital
Dr. Richard Camicioli, MD
Professor, Department of Medicine, Faculty of Medicine and Dentistry, University of Alberta, Edmonton, AB
Isabelle Caron, MSc, N
Associate director in geriatric nursing, documentation and digitalization, Department of Nursing Care, Jewish General Hospital, West-Central Montreal CIUSSS
Dr. Julia Chabot, MD
Assistant Professor, Division of Geriatric Medicine, St. Mary's Hospital
Dr. Victoria Chester, PhD
Co-Director of McCain Human Performance Laboratory, Faculty of Kinesiology University of New Brunswick, Fredericton, NB
Dr. Ming-Yueh Chou, MD
Director of the Geriatrics Department, Kaohsiung Veterans General Hospital, Taiwan
Carmen Desjardins, BSc Inf.
Program Manager of the Dementia with Psychiatric Comorbidity Program at the Douglas University Institute for Mental Health, CIUSSS Montreal West
Dr. Uyen Doan, BSc, MD
Senior Resident in Geriatrics, McGill University
Dr. Ruby Friedman, MD, FRCP
Site Director, Geriatrics Department, Jewish General Hospital
[/vc_column_text][/vc_column][vc_column width="1/2″][vc_column_text]
Kevin Galery, MS in cellular and molecular biology, Gerontologist
Scientific project manager, international medical research coordinator, Scientific Event Project Manager, Centre for Longevity Pays de la Loire (France)
Dr. Sebastien Grenier, PhD,
Research Assistant Professor in Psychology/Gerontology
Montreal Institute of Geriatrics, Montreal University, Montréal, QC
Dr. Paul C. Hebert, MD, MHSc, FRCPC
Head of the Medical Department and permanent Researcher at the CHUM Research Centre
Professor at the Faculty of de Medicine at the Université de Montréal
Deputy Scientific Director, CHUM Clinical Research, Université de Montréal Hospital
Dr. Guillaume Leonard, PhD
Assistant Professor School of Rehabilitation, Faculty of Medicine and Health Sciences, Sherbrooke University, QC
Dr. Teresa Liu-Ambrose, PT, PhD,
Canada Research Chair (Tier II), Physical Activity, Mobility, and Cognitive Neuroscience
Director, Aging, Mobility, and Cognitive Neuroscience Laboratory, University of British Columbia, Vancouver, BC
Dr. Josefina Maranzano, MD
Doctoral candidate, Integrated Neuroscience Program, Montreal Neurological Hospital and Institute, McConnell Centre of Cerebral Imaging, Magnetic Resonance Imaging Laboratory, McGill University
Eric Maubert, LLB, MSc
Project coordinator, RUIS McGill Centre of Excellence on Longevity
Project manager for the Ministerial Initiative on Alzheimer's disease and other major neurocognitive disorders, RUIS McGill catchment area
Dr. José Morais, MD, FRCP, CSPQ
Divisional Director, Geriatric Medicine, McGill University, Jewish General Hospital & Montreal General Hospital (CUSM)
Anne Morinville, PhD
Senior project manager, Université de Montréal Hospital Research Centre, Montreal
Pam Orzeck, MSW, PhD
Assistant Professor, Deputy Director of the MSW/QY program, McGill University School of Social Science
Dr. Soham Rej, MD, MSc
Geriatric psychiatrist and Assistant Professor, Department of Psychiatry, Jewish General Hospital, Lady Davis Medical Research Institute, McGill University
Samantha Remondière
Art-Therapist, Gerontologist
Director of the Geriatric Inclusive Art Workshops, Jewish General Hospital, McGill University
Julie Roy, B. Pharm, MSc, PhD
Deputy Head of Research and Teaching, Department of Pharmacy, Jewish General Hospital, West-Central Montreal CIUSSS
Dr. Patrice Tremblay, MD, CCFP (COE)
Assistant Professor at the Faculty of Medicine, McGill University, Department of Family Medicine
Director of Pre-Doctoral Education in Family Medicine at St. Mary's Hospital
Valérie Schneidman, MSc (A) ENC(C)
Nursing Care Coordinator for Emergency Medicine, Head Emergency Unit Nurse, West-Central Montreal CIUSSS, Jewish General Hospital
Christine Touchette, MSW
Deputy Director, CIUSSS West-Central Montreal
Supporting Autonomy in Seniors (SAPA), CLSC
Katy Shadpour, MSc (IT)
Coordinator, Centre of Expertise in Telehealth (CECoT), CUSM, Montreal
Cindy Starnino, MSW
Director of Academic Affairs, CIUSSS West-Central Montreal
Dr. Tony Szturm, BSc (PT); PhD (Neurophysiology)
Professor, Department of Physical Therapy
Adjunct Professor, Department of Mechanical Engineering, College of Rehabilitation Sciences, University of Manitoba, Winnipeg, MB
Maria Veres
IT analyst, Information Management Service, Jewish General Hospital
Christine Vilcocq, MSc, BSc, Gerontologist
Partnership Director, RUIS McGill Centre of Excellence on Longevity
Co-founder of the Centre for Longevity Pays de la Loire (France)
Operational Director of Biomathics, consortium applying bio-mathematical modeling to human longevity
Claire Webster
Certified Counselor and Trainer for Alzheimer's disease
Certified Counselor on Aging, CPCA
President and Founder of Caregiver Crosswalk Inc.[/vc_column_text][/vc_column][/vc_row][vc_row][vc_column][vc_column_text]
[/vc_column_text][/vc_column][/vc_row]