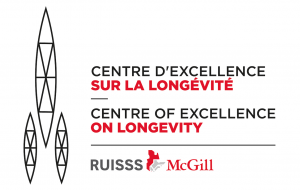 The RUISSS McGill Centre of Excellence on Longevity was created at the end of 2012 on the impulse of the Ministry of Health and Social Services to offer concrete support to clinicians and health organizations working in the fields of aging and chronic disease in the McGill University's Réseau Universitaire Intégré de Santé et Services sociaux (RUISSS).
The Centre of Excellence on Longevity is a Non-Profit Organization established with the Registraire des Entreprises du Québec.
Since 2015, the Centre of Excellence on Longevity has been dedicated to brokering knowledge and implementing innovative practices in order to improve the health, longevity and quality of life of older adults, making them actors of their health and acting on their environment: caregivers and professionals of the health and social sector, by integrating the organization and the procedures of our system of care.
To improve the health, independence, autonomy, and quality of life of seniors while maintaining a fair and efficient healthcare system.
> Methodology
To actively involve elderly people in their own health and healthcare, and to intervene in their lives through knowledge brokering and technological innovation.
> Target audience
Elderly people and their caregivers, Elderly people in the community, Healthcare professionals, Scientific researchers, Politicians and public bodies, The general public
> Areas of activity